Giving Thanks in Hard Times
| By admin
Editor's Note: Be sure to check out our 1-session discussion guide Giving Thanks in Hard Times. You can use it to bring Scripture into your Thanksgiving celebration with family or friends. Right now it is available free through our web store.
---
As you face a variety of challenges in this difficult year, there's a simple key to growing stronger instead of more stressed: Giving thanks. I discovered how this works when I really wasn't expecting it.
It happened after I signed up for strength training sessions at our local fitness center. For many years I had heard how important strength training is, and after dealing with painful knees while jogging, I finally decided to take action.
Somehow I imagined "strength training" meant learning how to lift weights on a variety of weight machines without hurting myself. Was I ever surprised! No weights at all in my first session—just squats! Again and again I repeated this exercise while Jackie, my personal trainer, gave me instructions. First there were major adjustments, and then just a minor tweak here or there. Good form was essential, because after that, everything we did built on that foundation.
As we continued these sessions, strength training still wasn't about muscling up heavy metal bars on weight machines. Sometimes it involved standing on one foot or stepping up on a stool or leaning on an exercise ball. But whatever the exercise, I started out wobbly and uncertain, but then regained balance and smooth motion.
Then Jackie started adding small amounts of tension—a band just below the knees, or a weighted basketball, or yes, finally, a cable holding weighted bars.
Soon I was clearly feeling sore spots.
What Jackie showed me next blew me away! With every instance of muscle soreness and tightness, Jackie had me place a small, hard rubber ball on a related pressure point. So if a muscle in my arm was starting to ache, I would lie down with that little ball at the back of my shoulder and then move the ball around a bit until I found a sore pressure point that was related to that muscle group.
Then, with her New Zealand accent, Jackie told me to press right into that "tender spot." Believe me, pressing a ball into a tender spot was not comfortable! But she had me bear down right on that painful spot in the back of my shoulder while moving my arm up and down, and then back and forth, and then diagonally, many, many times. It took time, perseverance, and patience to go through the process, but when we were done, I had more range of motion and the pain was released—every time!
SPIRITUAL STRENGTH TRAINING
Through the challenges we have faced in the past few years, the analogies of my personal training sessions have not been lost on me. As believers, we could think of all challenging times as intensive spiritual strength training.
For spiritual strength training, I think being immersed in Scripture is the "squats" of our lives as believers. We need God's Word—plain and simple—as a consistent foundation in everything we do. We need to read it, discuss it, absorb it, and apply it to our lives. Regularly. Every day. Whether we are in a pandemic or not.
Then, no matter what year it is, tensions come. In the past few years many have gone through some level of financial stress, health concerns, and physical isolation from normal relationships. We have been bearing new kinds of loads. And with every new challenging circumstance our motion has probably always been wobbly at first—wobbly and uncertain. But we gain balance and smooth motion as we apply the instructions of God's Word in every new situation.
And then from the effort of living with these new tensions, we notice soreness that constricts and binds and constrains us, and sometimes we feel weaker rather than stronger. But I have discovered that when this happens, there is a standard "hard rubber ball" to apply to painful pressure points.
It's very simple: Giving thanks.
I noticed the power of giving thanks right around the time that I was getting strength training from Jackie. I was in a meeting, presenting strategy to a small group of wise advisors. They were asking me questions, and in that moment, I suddenly felt the ache of doing hard work and the feeling of weakness beginning to rise to the surface. I was in danger of tightening up emotionally and diverting the purpose of the rest of the meeting. But in the same moment, this Scripture came at me like a simple hard rubber ball offered by the Holy Spirit, my ultimate personal trainer:
"Give thanks in all circumstances; for this is God's will for you in Christ Jesus"
– 1 Thessalonians 5:17
In that moment, in the middle of that group of advisors, I obeyed the instruction to give thanks. I pushed thankfulness, hard, into a pressure point—the place that felt sore. I looked around at each person, listening to the Holy Spirit's instruction to give thanks, and suddenly realized how grateful I was for these individuals who were alongside—advisors who were so much wiser than I, who knew how to ask the right questions, the hard questions, the questions that added some tension, but also the questions that would build strength.
In that moment I also thanked God for his faithfulness, for building this ministry through time to carry out his purpose and design for it. And with thankfulness touching right at the point that was sore and painful, suddenly I felt release. Instead of feeling emotionally weak, I felt strength, and the meeting went on to be productive.
GIVING THANKS IN ALL CIRCUMSTANCES
As believers, sometimes our thanks is focused—in faith—on giving thanks for some element of the circumstance itself. But always, we can go beyond the circumstance to give thanks for God's character—which is above every circumstance.
Psalm 107 gives us several portraits of people in deep trouble. It shows how they responded and how God intervened. It also reveals so many reasons to give thanks. These reasons go beyond circumstances . . . they are focused on the character and action of God himself.
So if this has been year of unique crisis for you, consider planning a time for a short Thanksgiving discussion based on Psalm 107. It's called Giving Thanks in Hard Times. You can use it yourself and also share it with people you know. This discussion may be a contribution to your time that means a whole lot more than sharing your favorite pumpkin pie recipe!
May God bless and guide you this Thanksgiving!
Karen Schleicher
Q Place Executive Director
---
For additional Thanksgiving ideas, check out these articles: If Thankfulness Were a Drug . . . and 6 Great Thanksgiving Questions.
In these challenging times, when you want to be strengthened in Scripture and also help others get into God's Word, check out our full line of Bible discussion guides. They work great for small groups whether meeting in person or online, and you can use them to get everyone involved in discussing and applying Scripture to their lives.
We have three levels of guides so you can find the perfect fit for your group. Whether your group members have a lot of previous experience in the Bible or none at all, Q Place Bible discussion guides help everyone grow spiritually and in community with each other. And right now, that may be one of the most valuable ways you can offer support to people you know.
---
---
Recent Posts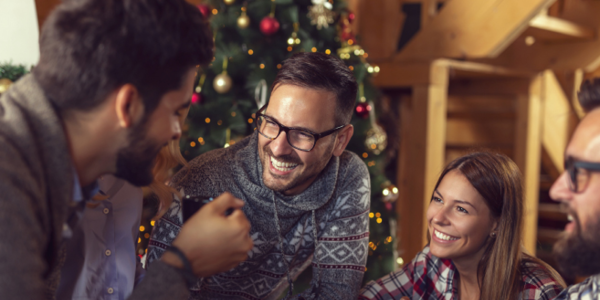 The Christmas holidays are a time of year when people are often more open spiritually. However, most people will want to know if you are a "safe"...
Read More >